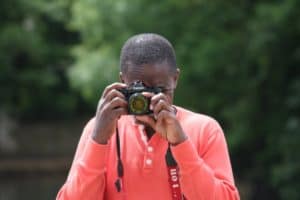 Eddie Botsio is an award-winning journalist and broadcaster. He has reported and presented on the major news & current affairs output for the BBC and ITN. Editorially and creatively his programme ideas are ground-breaking such as this tribute to Martin Luther King.
Here's audio of Eddie's work for BBC World Service
Eddie is an emerging photographer of considerable repute who has been privately commissioned by a range of organisations and individuals.  After the acclaimed exhibitions; 'In and Out of the Public Eye', 2011 and 'Behind the Scenes', 2013, two images, of Nick Hewer and Tony Ageh, were acquired by the National Portrait Gallery
Eddie's portrait work captures moments of intimacy, particularly from public figures, while his street photography suggests the nature of people's relationships and the humour in everyday life.
This website showcases some of Eddie's work.  The images are under copyright and are available to purchase or licence with consent.
We hope you enjoy viewing these images.  If you'd like to use any or commission a project please contact me →